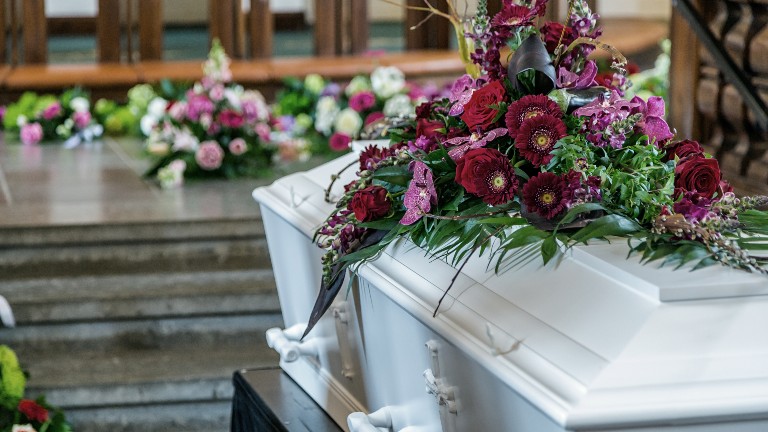 If a loved one has recently passed away, you may be considering embalming while planning the funeral arrangements.

Read our guide to find out more about the embalming process.
Embalming is the process of restoring the body of someone who has died so that they can be viewed after death.
This works by delaying the natural processes that happen in the body when someone passes away, with specialist embalming solutions used to treat the body. This helps to give the person who's died a more peaceful appearance.
Why is it important?
Embalming is a common practice when someone passes away and is used in funeral arrangements for many different cultures in the world to preserve the body of a loved one. However, some religions, such as Islam and Judaism, prohibit embalming as they believe a body should be buried with all of its components, so the removal of blood necessary for embalming violates their beliefs.
When family members wish to spend more time with their loved one after they have died, or when there will be an open casket at the funeral, embalming is a common choice.
In addition, there are many reasons why someone may choose embalming.

These include:
A person may have requested it before they passed, perhaps as part of a prepaid funeral plan.
It can help give the person a peaceful, natural expression, giving grieving family members the chance to see them how they remember one last time.
When the body is going to be repatriated, embalming is a legal requirement.
If there's a need to preserve the body when there is a delay with the funeral.
What is the embalming process like?
There are two different types of embalming widely practiced today: arterial embalming and cavity embalming. The process, whereby a small incision is made in the body to inject embalming fluids, takes around two hours to complete. This includes washing and drying the hair and body of the person who has died. The embalmed body is also carefully massaged to relax muscles and joints, removing some of the tension brought about by rigour mortis.
With arterial embalming, blood is removed from the arterial system and replaced with embalming fluids. With cavity embalming, fluids inside the chest and abdomen are removed and replaced with embalming fluids to preserve the body.
Is embalming permanent?
Although embalming delays the natural process of death, the affects do not last forever. Usually, the body will be preserved for about a week, however, factors such as condition of the body and the temperature at which it is being stored may affect this.
Is it possible to have an open casket without embalming?
A body can be viewed without embalming. However, there may be a slightly shorter time frame in which your loved one can be viewed. If you do choose not to opt for embalming, our funeral homes can still prepare your loved one for a viewing. This includes washing their hair and body, dressing them, and setting their features to a natural expression.
Is embalming a requirement for burials?
No, embalming is not required for a burial. In fact, if arrangements have been made for a natural or eco-friendly burial then embalming is forbidden. This is because the embalming fluids used to preserve the body are environmentally unfriendly chemicals.
Is embalming necessary for cremation?
No. Some people do choose to be embalmed before cremation, but this is purely personal choice. It is down to the family of the deceased to decide if they want the body embalmed prior to cremation.
Is embalming required by law?
Most of the time, embalming is not a legal requirement. However, there are exceptions to this, including if your loved one needs to be repatriated for their funeral, or died from an infectious disease.
How much does embalming cost?
The cost will vary depending on which funeral director you choose, and the work that is required. We charge £120 for this service at our funeral homes. If you have any more questions about embalming or arranging a funeral for a loved one, please feel free to get in touch with our friendly team here at Funeral Partners