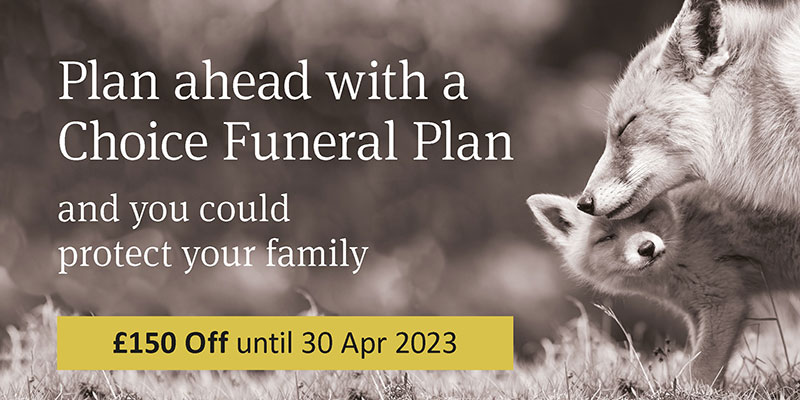 We understand the emotional and financial impact of arranging a funeral, which is why a prepaid Funeral Plans could provide peace of mind for you and your family.
And with a special offer of £150 off Funeral Plans until 30th April, now could be the ideal time to buy a Choice Funeral Plan.  Quote LT110 to claim your discount.
With a Choice Funeral Plan you can:
Record your personal wishes which may help loved ones with difficult decisions when the time comes
Fix the cost of Funeral Director Services which may otherwise change in the future
Allow optional Voluntary Contributions towards Third Party Fees and Additional Products & Services
Are insurance backed for peace of mind
Our Choice Funeral Plans include Funeral Director Services, such as professional services, coffin and transport, however, exclude Third Party Fees and Additional Products & Services.
You do have the option to make Voluntary Contributions towards Third Party Fees, such as burial/cremation costs, doctor's fees and minister/celebrant fees, which must be paid for the funeral to take place.
You can also make Voluntary Contributions towards Additional Products & Services, where the amount you choose to contribute is your choice. Prices will be charged at the prevailing rate at the time of Redemption and additional payments may be required if the value at Redemption is insufficient.
Limits, terms and exclusions apply.
For terms, conditions, exclusions and limitations, visit choiceplan.co.uk/terms. Funeral Partners is a trading name of Funeral Partners Limited (Funeral Partners) which distributes Choice Funeral Plans, which are provided by Alternative Planning Company Limited (APCL). Funeral Partners is an appointed representative of APCL. APCL is authorised and regulated by the Financial Conduct Authority with firm reference number 965282. Both APCL and Funeral Partners are in the Funeral Partners Group. APCL incurs costs in order to provide this Funeral Plan to you. These costs are typically around £475 per plan. APCL's costs are included in the price you pay for the Funeral Plan.