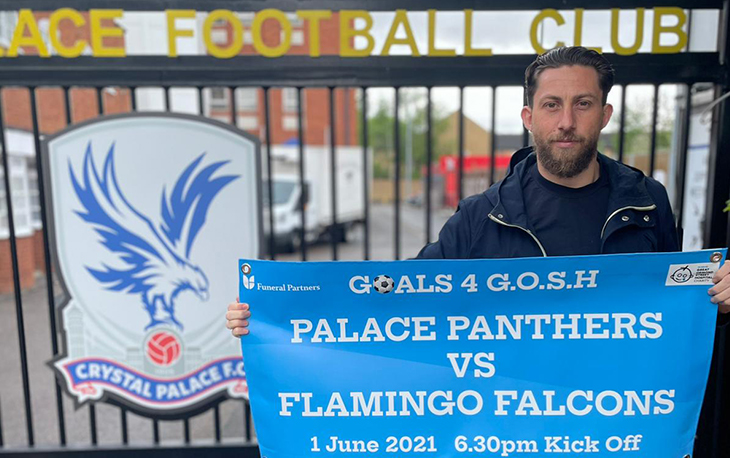 A high-profile charity football match organised by Jamie Groves, Regional Development Director at Funeral Partners, is set to raise over £15,000 in aid of Great Ormond Street Hospital Children's Charity at Selhurst Park stadium.
The Goals 4 GOSH match will see the Flamingo Falcons and Palace Panthers, both named after different wards at Great Ormond Street, go head-to-head on June 1, kick-off at 6:30pm.
The teams will comprise ex-football pros such as Anton Ferdinand and Jimmy Bullard, as well as celebrities including actor Tamer Hassan and comedian Omid Djalili.
Jamie said: "Great Ormond Street has always been very special to me, with many of my friends and family being cared for by their wonderful staff. And being a part of the local community, it's imperative to us at Funeral Partners that we support families and loved ones.
"It must have been particularly difficult for children in hospital being separated from their family over the past year due to lockdown restrictions. I hope this football match can therefore raise funds to help Great Ormond Street continue their hard work and make unwell children feel better again.
"The funeral teams at our local South London branches including Pinks Funeral Directors, Doves Funeral Directors, Steven Mears Funeral Directors, Gillman Funeral Service and A Yeatman & Sons Funeral Directors are excited by this opportunity to get back out in the community and help fundraise for such great causes again."
Jamie suggested the idea of Goals 4 GOSH to family friend and retired footballer Allan Cockram, and with his support reached out to a number of other ex-football pros and celebrities including Jimmy Bullard and Tamer Hassan, who quickly expressed an interest in playing.
Jamie then set about gauging interest from local businesses when Crystal Palace F.C. offered their Selhurst Park stadium for the match to take place.
The Palace Panther team was named after Crystal Palace and the Great Ormond Street Panther Ward, which cares for children undergoing ear, nose and throat operations, while the Flamingo Falcons team represents the hospital's Cardiac Intensive Care Unit and outpatient department.
Jimmy Bullard said: "I'll take any excuse to put my boots on, and what an amazing excuse. I really am looking forward to getting out on the pitch and having a great game of football with a few nutmegs, but most importantly, raising as much as we can in aid of Great Ormond Street Hospital Children's Charity."
Tamer Hassan added: "I've always been passionate about fundraising, especially for our NHS. I enjoy raising awareness for wonderful causes and helping others. I couldn't say yes quick enough when Jamie asked if I wanted to be a part of the Goals 4 GOSH match. He really has a heart of gold."
Anton Ferdinand said: "This is a fantastic cause that I am so grateful to have been asked to take part in. The aim is to help raise as much money and awareness as we can for GOSH. Jamie has done a great job putting this together."
Tickets cost £5 per child and £10 per adult on Eventbrite through the Goals 4 GOSH website, with all proceeds going to Great Ormond Street.
A matchday raffle will be held at half-time, with a number of prizes including a Crystal Palace jersey signed by the club's players.
The event has already raised more than £8,000 in aid of Great Ormond Street Hospital Children's Charity, breaking Jamie's original target of £5,000.
For latest information about the event, follow Goals 4 GOSH on Facebook, Instagram and Twitter.
For support with your own fundraising for GOSH, please email community.events@gosh.org