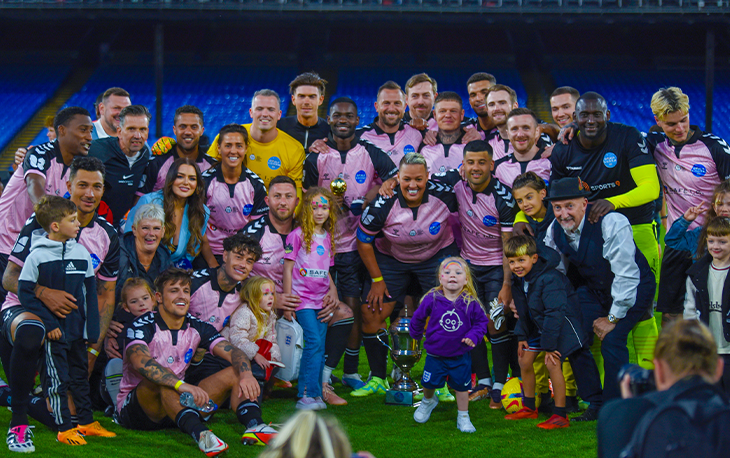 Celebrities including former footballers, top musicians and social media sensations took to the pitch to raise an incredible £46,731 for Great Ormond Street Hospital Children's Charity (GOSH Charity).
Now in its third year, Goals 4 GOSH returned to Selhurst Park, the home of Premier League side Crystal Palace, as the Palace Eagles took on the Crystal Kangaroos. The action-packed day included a TikTok Tournament featuring stars of the platform, and an Allstars Tournament where celebrities, sponsors, and families of children under the care of Great Ormond Street Hospital (GOSH), strapped on their boots.
Among the stars to appear was grime star Santan Dave, ex-Premier League defender Anton Ferdinand, England lionesses Fara Williams, Katie Chapman, Lianne Sanderson, and Hollywood star Tamer Hassan.
Goals 4 GOSH is the brainchild of Jamie Groves, Regional Development Director at Funeral Partners, with the support of Pinks Funeral Directors, Gillman Funeral Service and other funeral homes in their South London network.
Jamie said: "Goals 4 GOSH has taken off to a level we never could have imagined when we launched it two years ago.
"If you'd have told me back then we'd have raised a combined total of more than £110,000 I would never have believed you – it's absolutely incredible, I'd like to thank everyone who took part, watched from the stands or tuned in on the livestream, as well as those who provided sponsorship, donations, goods, their time, resources and marketing support to spread the word.
"None of this would be possible without the support I receive from Funeral Partners, and from my good friend, Charlotte Styles who has co-organised this event with me since 2021.
"The money raised is absolutely vital for this amazing charity and knowing how it will benefit GOSH families is what drives me to fundraise for this extraordinary hospital."
In addition to the funds raised at this year's Goals for GOSH event, Jamie secured a surprise £10,000 donation, which was presented by former World Cup winner Cesc Fabregas after the initiative was nominated for a global competition run by the Spaniard's club, FC Como.
The funds also received a boost from TikTok rapper Formz who released a charity single for Goals 4 GOSH called 'Heroes', which was played on national radio stations including Magic FM and Absolute Radio.
Kelly Hailou, Marketing Director speaking on behalf of Funeral Partners, said: "Everyone at Funeral Partners is incredibly proud of Jamie and what the team have achieved. We have been humbled by the generosity and support this event has received from all involved."
Tentative plans are already being made for next year's event and future fundraising.
Commenting on the success of this year's event, Marina Barnes, Head of Community Fundraising at GOSH Charity said: "Goals 4 GOSH is a fantastic family event that has gone from strength to strength over the past three years. We'd like to thank Jamie and Charlotte, as well as everyone who supported on the day, for making this year's event the most successful yet.
"Funds from Goals 4 GOSH will go towards building a new, state-of-the-art Children's Cancer Centre at GOSH, which will house the most cutting-edge facilities and expertise to give hope to the hundreds of children and families every year who face a cancer diagnosis."
In recognition of their tireless commitment to fundraising for the organisation, Jamie and Charlotte have been named GOSH Charity volunteer ambassadors.
For more information about Goals 4 GOSH, go to Facebook @goals4gosh, Instagram @goals4gosh or at https://linktr.ee/Goals4gosh where donations are still open.