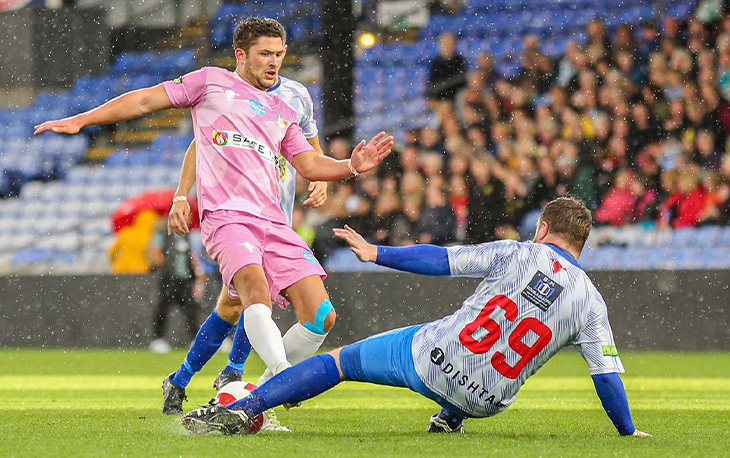 Celebrities including ex-professional footballers and social media personalities battled it out on the pitch raising more than £25k for Great Ormond Street Hospital Children's Charity (GOSH Charity).
Now in its second year, the Goals 4 GOSH football tournament, which took place at Crystal Palace's Selhurst Park stadium, saw the Palace Pelicans secure a 4-2 win over the Crystal Koalas – both teams taking their names from wards at Great Ormond Street Hospital (GOSH).
Lianne Sanderson (ex-England women's international) captained the winning team with Anton Ferdinand (ex-Premiership footballer) captaining the Koalas.
The big match was preceded by a TikTok tournament – featuring some of the platform's biggest names such as Cal the Dragon, Shaun Nyland, Dan Spragg, Connor Kern and Paddy Murphy – as well as a kickabout between local schools and former pros.
Goals 4 GOSH was the brainchild of Jamie Groves, Regional Development Director at Funeral Partners, with the support of Pinks Funeral Directors, Gillman Funeral Service and other Funeral Partners funeral homes in South London.
Jamie said: "I am delighted that the second Goals 4 GOSH tournament was another resounding success. As well as having two great teams of players, we doubled the number of people who came along to provide support with over 1,000 people in the crowd this year. The crowd created a great atmosphere, cheering on both teams.
"I have received some great feedback from the players saying how much they enjoyed the game, which was played in a great spirit. Although there were some flying tackles, we managed to get through the 90 minutes with no injuries and a lot of smiles."
Marina Barnes, Head of Community Fundraising at GOSH Charity, said: "We're so grateful to everyone involved in Goals 4 GOSH this year for raising such a fantastic total to support GOSH Charity. Thanks to the generosity of the star-studded squad, and all those who bought tickets and took part in the raffle and auction, the money raised will make a huge difference to seriously ill children from across the UK who are treated at Great Ormond Street Hospital."
Jamie adds: "The event wouldn't have happened without the support from colleagues at Funeral Partners across the South London region who helped with ​ ​raffle, auction table, selling programmes and checking tickets.
"I would particularly like to thank Charlotte Styles who was the co-organiser of the event and provided invaluable support – I know she was blown away with the amount of support, love and money we have been able to raise. I would also like to thank senior colleagues from Funeral Partners who attended the event and provided support including our Chief Executive Sam Kershaw."
Money raised from ticket sales, as well as a raffle and auction on the day, will help the most urgent needs of Great Ormond Street Hospital (GOSH). It could help fund research into pioneering new treatments for children, provide the most up to date medical equipment, fund support services for children and their families, and support the essential rebuilding and refurbishment of the hospital.
To support Goals 4 Gosh, visit: https://greatormondstreetgoals4gosh.muchloved.com/.
More photographs and videos are available on Facebook @goals4gosh, Instagram @goals4gosh or at https://linktr.ee/Goals4gosh